Act now to protect your business from Public Safety Power Shutoffs (PSPS) and power disruptions in 2020.
Public Safety Power Shutoffs (PSPS) are becoming a new normal for California. California utilities expect PSPS events to continue. Nationally, outages are expected to double in the next 15 years and quadruple in the next 30.
Bloom Energy, the industry leader in microgrid development, has a brand new program aimed at enabling businesses to protect themselves from PSPS events and other power disruptions in 2020 and beyond.
Quick to Deploy Protection: Contracts signed by January 31 will have a preferential deployment schedule to have resilient microgrid infrastructure in place by this year's upcoming PSPS events.
Add Reliability, not Cost: Bloom operates 24/7 to meet or beat grid costs today, while protecting your business against increasing costs in the future. Get the benefit of reliability without incurring any additional costs.
Improved Sustainability Benefits: Don't compromise your sustainability mission by using diesel generators that reduce air quality. This solution reduces CO2, emits virtually no NOx, SOx, or particulate emissions, is exempt from air permits, and uses no water during operation.

Fuel is a limiting factor on almost all competing technologies – onsite diesel storage, battery capacity, solar availability. This graph shows the timeline of October 26, 2019's multi-day PSPS outage: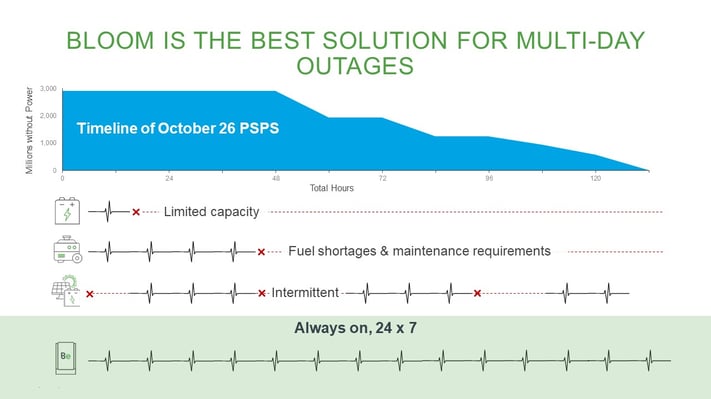 Bloom has protected customers from over 1,200 grid events since 2018 alone. Industry examples of downtime costs:
Grocery Stores:

$250,000+ in lost goods after a multi-hour outage

Data Centers:

$6,000 per second in lost transactions

Refinery: $90 million in lost revenue and fines after 6 week shutdown caused by utility outages